About Us
When you hire someone to change the look of your kitchen, you want them to be trustworthy, skilled and professional. You want to know…
Is the work guaranteed?
How much it will cost?
How long the job will take?
What is the rate of customer satisfaction?
How long the company has been in business?
The owners of JUST KITCHENS will personally manage your renovation from start to finish: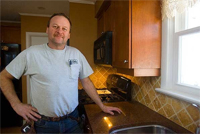 We back our work with a 5-year warranty
Pricing quotes are valid for three months
We deliver on time and finish most jobs within 2 weeks
Our installations conform to professional standards
We have remodelled thousands of kitchens in the London area since 1986.
With thousands of satisfied customers in London, Ontario, JUST KITCHENS offers a full range of kitchen cabinetry from a team of skilled, conscientious cabinet-makers. Choose from a wide variety of colours and styles to fit your budget and decor.
YOUR SATISFACTION IS GUARANTEED!